Nationally, we're seeing very low supply levels and steady price growth in several regions. In February, according to the the National Association of Realtors® (NAR), sales declined in all four major regions. This followed a climb to the highest level in six months. Please contact us regarding our local market and your particular needs.

Total sales of existing homes (transactions for single-family homes, townhomes, condominiums and co-ops), fell 7.1% to 5.08 million in February from January's 5.47 million. Still, sales were 2.2% higher than a year ago.

NAR's chief economist, Lawrence Yun, indicated that existing sales in February slowed nationally. "Sales took a considerable step back in most of the country last month" Yun said. He noted that "the lull in contract signings in January from the large East Coast blizzard, along with the slump in the stock market, may have played a role in February's lack of closings. However, the main issue continues to be a supply and affordability problem. Finding the right property at an affordable price is burdening many potential buyers."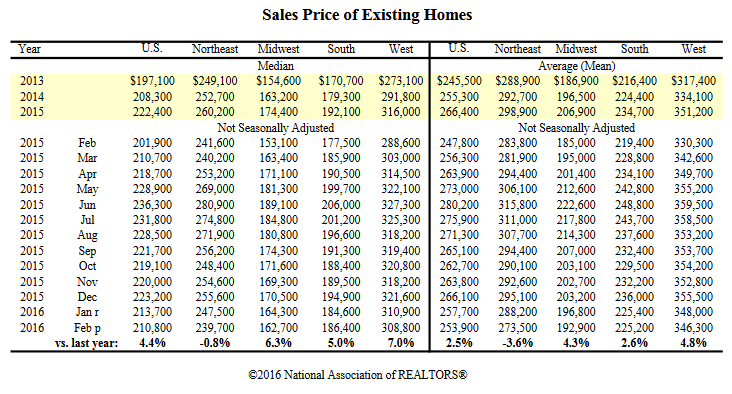 Housing Data Takeaways
February's median price for all existing home types was $210,800, a rise of 4.4% from February 2015 ($201,900). This makes 48 straight month of gains year-over-year.




Total housing inventory by February's end grew 3.3% to 1.88 million existing homes for sale. This is 1.1% lower than a year ago (1.90 million).




First-time buyer transactions dropped to 30% in February from 32% in January, but are still higher than 29% a year ago.




Freddie Mac data shows the average commitment rate for a 30-year, conventional, fixed-rate mortgage fell from 3.87% in January to 3.66% in February, the lowest since April 2015 (3.67%). The average commitment rate for all of 2015 was 3.85%.
Viewpoint from NAR's President

NAR President Tom Salomone, indicated that many Realtors® are seeing multiple bids and affordable homes going under contract quickly. "With low supply this spring buying season, it's easy for buyers to get discouraged when their offer is rejected in favor of a higher bid," he said. "That's why it's important for buyers to stay patient and work with a Realtor® to develop a negotiation strategy that ensures success without overstretching their budget."

We invite you to email or call us to help craft the right strategy for your needs right here in our market.